Please click below for Safety Guidelines.
We continue to pray for when and how we can gather safely again. Campus is now reopened during the week for some small group gatherings. Offices are open from 9-5 Monday through Thursday. Small groups are starting to regather as they feel comfortable, most meeting outside and practicing social distancing. Grace is starting with events like Communion for 50, Hot August Sunday, and Reno Love Day. See events page for details on these events.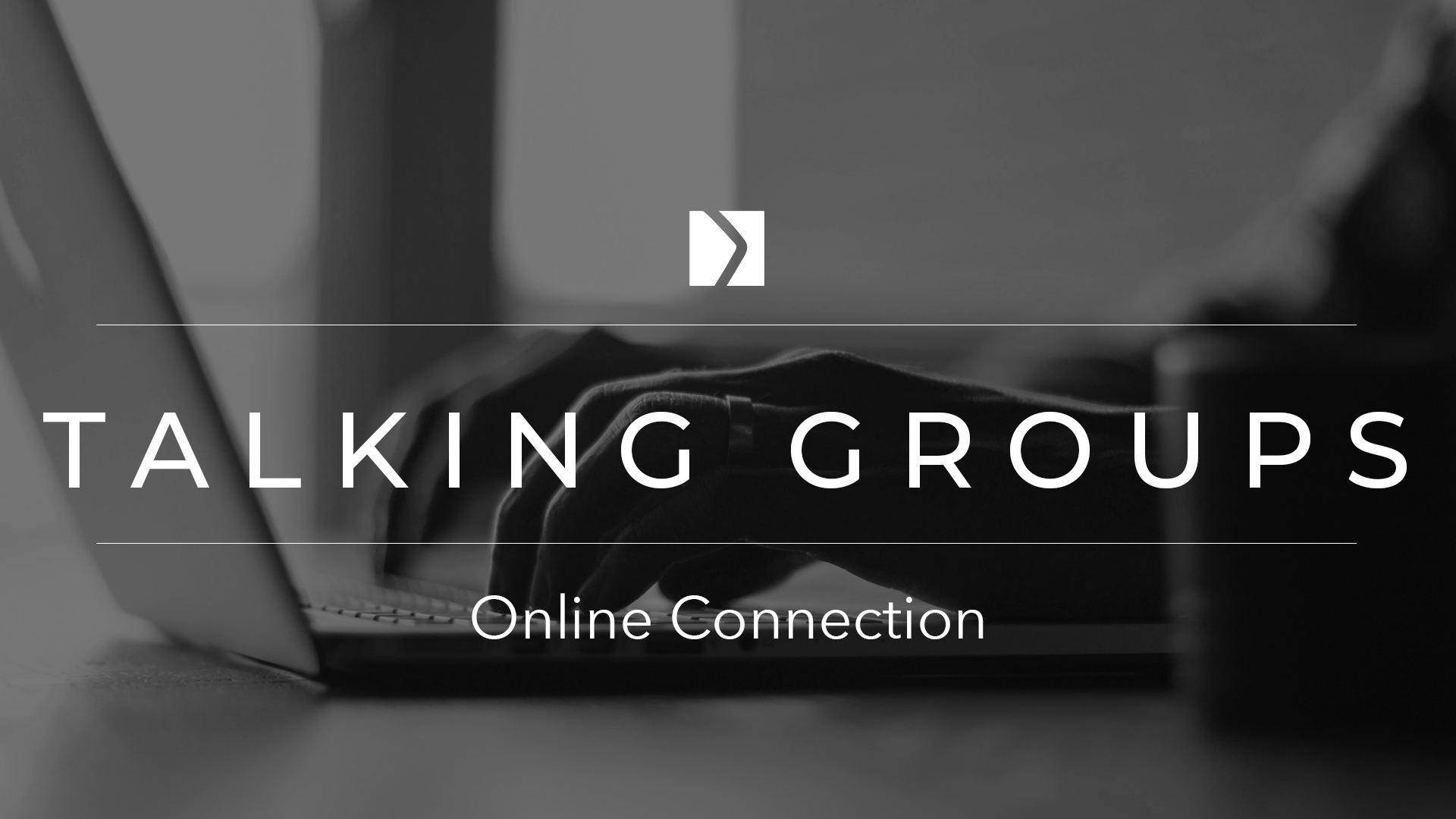 With social distancing being extended through the end of April, we're responding with more ways to connect online. Talking groups launches this week with Open Zoom Meetings Monday through Thursday. These groups are facilitated by Pastors and will provide more connection, and a chance for people to go deeper into Biblical teaching. To join in a Talking group, click here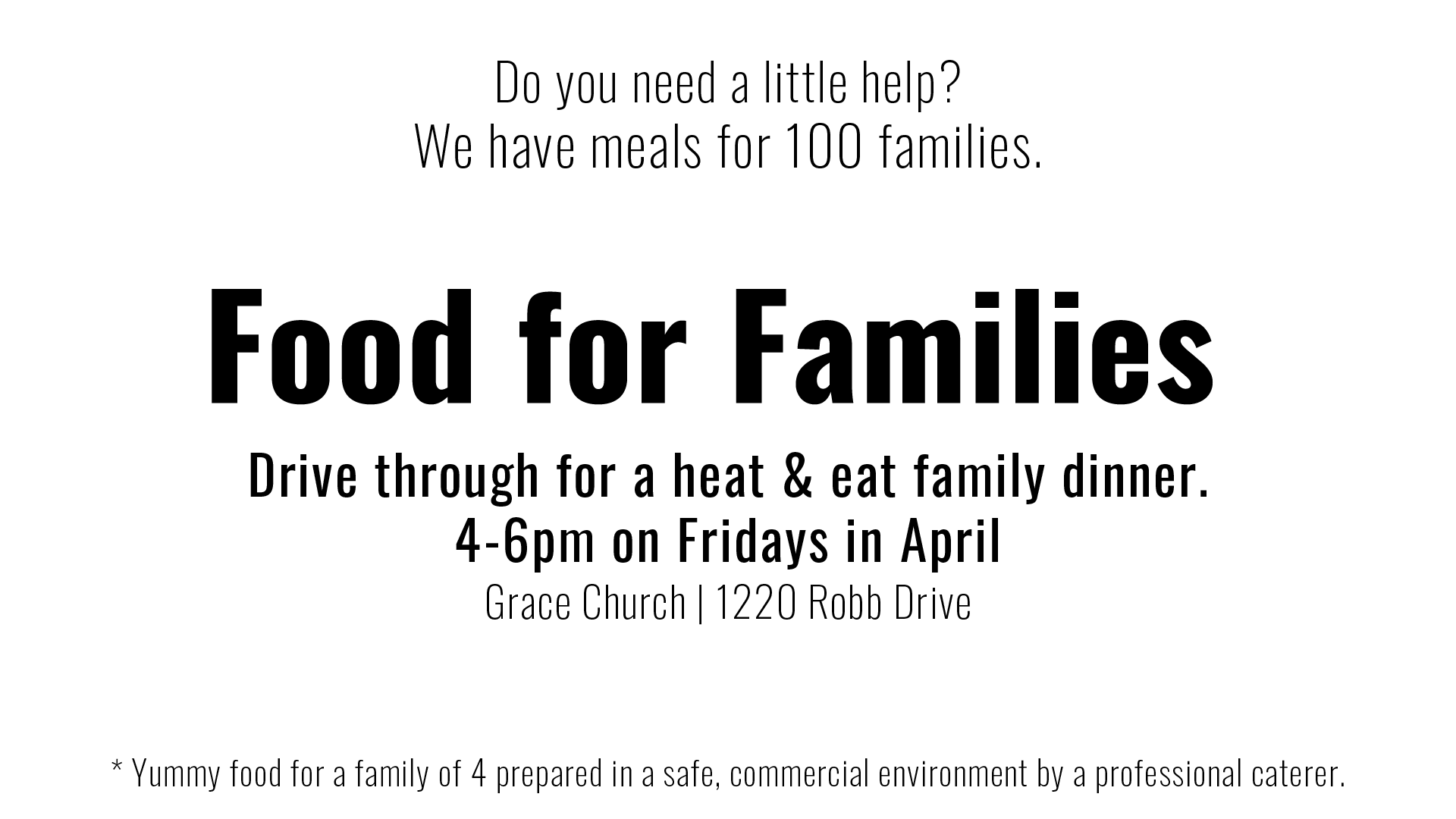 Also launching this week is Food For Families, a drive through experience for people who need help to get family meals. These meals are prepared and packaged by a professional caterer.  We'll start by feeding 100 families of 4 on April 3rd. One family heat and eat dinner per car, while supplies last. This week's menu is Pulled Pork, Mac & Cheese, Baked Beans, Cornbread & Butter, Sandwich Rolls, BBQ Sauce

We continue to reach out to people of Grace to pray with them, connect and support through Grace Loves. This is a great example of the Church being the church, as we connect more people with each other so we can all help each other through this.
In summary:
Effective immediately, Grace will be moving to livestream services only. We will livestream at 11am on Sunday mornings. Best option is to engage live as a family through Facebook or YouTube. If that doesn't work for you, you can find the recorded livestream starting this Sunday through Facebook or YouTube.
Additionally, sermons will continue to be posted Sunday afternoon on our website, along with talking points.
Grace's campus is now closed until further notice. All groups will move to digital meetings, or small groups can continue to meet in homes, subject to the discretion of the small group leader. We are working with group leaders to have resources to be able to continue in community, in a new digital way.
The Family Team will be sending out online resources for parents to teach their children to keep them moving toward Jesus.
We will continue to send out ideas, devotionals, texts and other resources to keep you moving toward Jesus during this unprecedented time.
It's more important than ever that we engage online, through the website, Snapshot, texting, and social media, check in often and join the conversation.
If you have questions or need help, email info@gracechurchreno.org and we'll get back to you as soon as we can.
We love you. This church has always been about people, and always been very effective beyond our walls. Let us all lean in to Jesus and remember our calling to be the church, however that looks, now more than ever. Stay tuned.
Friday, March 13, 2020
Things are happening on an hourly basis so check back here often for the latest.
Here are a few updates about Sunday Services, March 15th.
If you have a compromised immune system, are feeling ill, even if it's just a common cold, please worship from home via Facebook. If you aren't on Facebook, you can access the sermon at gracechurchreno.org/sermons by noon on Sunday .
We're expecting snow and smaller crowds so there will be no Shuttle service on Sunday. Park at Grace!
Wash your hands often and use the hand sanitizers near the restrooms.
Cafe will be closed, so please enjoy breakfast and your coffee before you come.
YA Socials will be meeting after the 6pm service.
Don't be anxious. Pray about everything. Do not fear. God is in control.
Read on for previously published information.
Thursday, March 12, 2020
On Sunday, Pastor Dan addressed the Corona Virus. He had some great advice. Do not fear. Be careful, not crazy.
Following that advice, we've made some decisions to help keep you safe.
If you aren't feeling well, have compromised immune systems or are uncomfortable in anyway, please stay home and worship online with us. We will livestream at 9am and those services will be available on Facebook real time, and afterward as a recorded video. You can also access the sermon through our website by Sunday evening.
Starting this Sunday, and until further notice, we will not be doing greetings during service. We'll keep loving each other and worshiping God together, but minimize risk by reducing suggested physical contact.
We have installed hand sanitizers throughout the building and as usual, have antibacterial soap in each restroom.
Because there's no way to guarantee sanitized containers when passing from person to person, starting this Sunday, we will no longer be passing offering pails. Instead, we will encourage giving through Pushpay and have giving buckets throughout the building. Keep in mind that bills still have to be paid, and Kingdom work still must go on, so please find another way to give.
We're grateful that we have victory in a God who is in control of everything. We're grateful to be able to continue meeting together, whether in person or online, and look forward moving toward God and each other. Remember: He is in control.
Do not be anxious about anything, but in every situation, by prayer and petition, with thanksgiving, present your requests to God. And the peace of God, which transcends all understanding, will guard your hearts and your minds in Christ Jesus.
Philippians 4:6-7